Driver uniform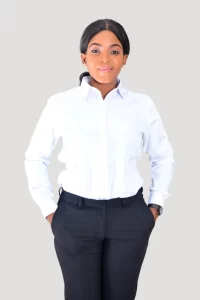 A driver uniform is a specific type of clothing worn by professional drivers, such as those who operate taxis, buses, delivery trucks, or other types of vehicles.
The driver uniform typically includes a shirt, pants, and sometimes a jacket, all designed to be comfortable and practical for driving.
Driver uniforms may also include company logos, badges, or other identifying features to help customers easily identify the driver and their company.
Additionally, some driver uniforms may have reflective materials or other safety features to make drivers more visible to other motorists, especially in low light or nighttime conditions.
The specific design of a driver uniform can vary depending on the company, individual, business and industry.
For example, a taxi driver may wear a uniform that is different from that of a delivery driver, and a bus driver may have a different uniform from a truck driver.
However, the main purpose of a driver uniform is to create a professional and uniform appearance for the drivers, which can help build trust and confidence with customers.
DRIVER UNIFORM IN NIGERIA 
In Nigeria, there is no standard driver uniform that is mandated or required by law.
However, some companies, organizations, businesses and private individuals may have their own dress codes for their drivers.
If you're looking for high-quality driver uniforms in Nigeria, look no further than Just Uniforms.
Just Uniforms is the best company to buy driver uniforms in Nigeria.
Just Uniforms offers a wide variety of driver uniforms to choose from.
Whether you're looking for a traditional, classic uniform or something a little more modern and stylish.
Just Uniforms offer driver's uniforms in different colors, styles, and sizes to meet the needs of any driver.
Just Uniforms also offers affordable pricing for their driver uniforms, making them accessible to a wide range of customers.
Just Uniforms strive to provide their customers with the best possible value for their money.
Just Uniforms has a strong reputation for delivering their products on time and in excellent condition.