SELLING OF NIGERIA INDIGENOUS ANKARA CHEF UNIFORM DESIGN TO THE GLOBAL MARKET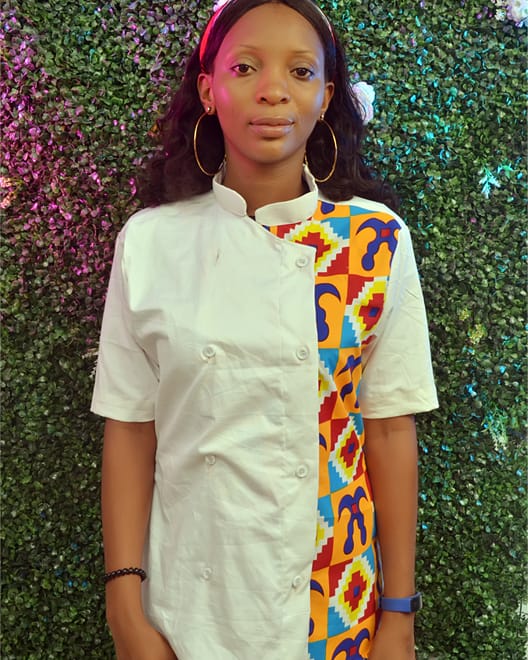 CHEF UNIFORM IN NIGERIA
In Nigeria, the traditional chef uniform typically consists of the following elements:
1. Chef Hat: A tall, white hat known as a toque is commonly worn by chefs. It helps to add a professional touch to their appearance.
2. Chef Jacket: A white, double-breasted chef jacket is the standard attire for chefs in Nigeria. It is designed to be durable, comfortable, and easy to clean.
3. Chef Pants: Chefs usually wear loose-fitting, checkered or striped pants, commonly known as houndstooth or herringbone patterns. These patterns are chosen because they help to mask stains and spills.
4. Apron: Chefs often wear a sturdy, full-length apron to protect their clothing from spills, splatters, and heat. The apron is typically made of a thick fabric and ties around the waist.
CHEF UNIFORM IN LAGOS
In the bustling culinary landscape of Lagos, where flavors from diverse cultures merge to create a vibrant food scene.
Chefs are not only known for their exceptional culinary skills but also for their impeccable style.
The chef uniform plays a vital role in reflecting their professionalism and dedication to their craft.
1. Traditional Ankara Accents:
One striking feature of chef uniforms in Lagos is the infusion of traditional Ankara fabric accents. Ankara, a vibrant and colorful African fabric.
Chefs incorporate Ankara patterns into their uniform's trimmings, buttons, or pocket squares, providing a unique and eye-catching flair that sets them apart.
2. Functional Pants and Aprons:
To complement their jackets, Lagos chefs opt for functional and comfortable pants and aprons.
The pants are typically black or checkered, designed to withstand the demands of a busy kitchen environment while allowing chefs to move with ease.
Chefs also wear aprons for protection against spills and splatters, often selecting sturdy designs with ample pockets to keep essential tools close at hand.
In Lagos, the chef uniform is not just a standard outfit; it is a testament to the culinary skills, professionalism, and cultural pride of the chefs.
The crisp white jackets, Ankara fabric accents, functional pants, headgear, and quality footwear come together to create a distinctive and visually striking ensemble.
Lagos chefs understand the importance of both style and functionality, striking the perfect balance to enhance their performance in the kitchen while showcasing their unique identity.
The chef uniforms in Lagos reflect the city's vibrant culinary culture, and they are an essential part of the Lagos culinary experience.